Welcome to Tangled Webs of Tangwen's Easter Hoppin' Blog Hop! In this hop, you will see different projects featuring the holiday that is hoppin' right up on us EASTER!! We hope that you enjoy our blog hop today!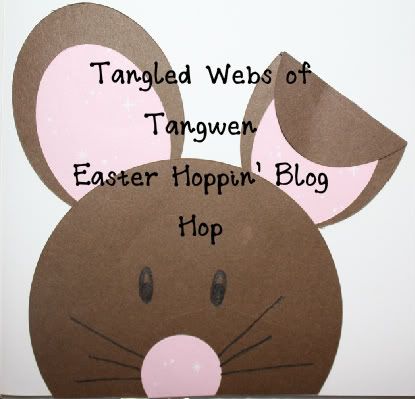 This hop is sponsored by
Ginger Snap Scraps
, an online store run by stay at home mom Cori Wagner.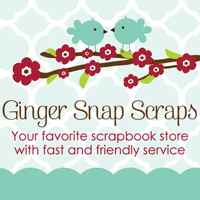 The store will be opening in April!! Cori is giving away a $20 gift card to the store to one lucky winner.
You must be a follower of
Ginger Snap Scraps
, the blog and Tangled Webs of Tangwen in order to win the $20 gift card. Ginger Snap Scraps will carry Cricut products, Echo Park, Lawn Fawn, The Twinery and many more popular brands that you love!
While you were out hoppin' around the sites, I found this great giveaway hidden under a shrub! For this weekend's blog hop, Tangled Webs of Tangwen is giving away this great Easter themed paper pack!
To enter to win this pack, make sure you are a follower of Tangled Webs of Tangwen, leave a message at the Easter Hoppin' blog hop post letting her know!
If you get turned around while you are doing all the hoppin' around here is the list to get you going down the right path again!
1. Missy -
http://www.tangledwebsoftangwen.blogspot.com/
2. Barb -
http://www.bugbites411.blogspot.com/
3. Cori -
http://www.createdbycori.blogspot.com/
4. Lisa -
http://handmadewithlove-lisa.blogspot.com/
5. Angie -
http://www.scrapmaniac.blogspot.com/
6. Michele -
http://michelescraftroom.blogspot.com/
I am the last stop on your Easter Hoppin' Blog hop today ~ I'm so glad you could join us! Have you ever wondered why we color and hide eggs on Easter??? Me too so I looked it up! Long story short.......
Easter Origins
Easter originates from the Saxon festival of Eastre, in 5th century AD, when spring was celebrated as a time of rebirth and fertility. Eggs and rabbits became symbols of this celebration.
Christian Adaptation
Christians adopted the egg as a symbol of Christ's resurrection. Eggs were eaten in the Easter meal to signify the end of Lenten fasting since animal products were not eaten during Lent.
Many cultures hunt eggs to symbolize a new life or good luck to the finder of the eggs. Another belief is that egg hunts originated in 17th century Europe when pagans were forced to hide their eggs to avoid being persecuted by Christians for practicing other religions.
Coloring Eggs
Coloring eggs may have originally celebrated sunlight and the bright colors of springtime. One Greek Orthodox legend says a Roman Emperor proclaimed he would believe in the resurrection of Jesus when his eggs turned red, prompting a miracle before his eyes.
Now that we have increased our knowledge base....here is my card creation for today. With storms in the area and power stuttering, I had to come up with something quick! (can you imagine crafting by candlelight? lol that may be a great challenge some day)
Supplies Used:
Purple & Lavender Cardstock
Cricut Plantin Schoolbook (grass)
Hobby Lobby Easter Ribbon Assortment
Hobby Lobby "Happy Easter" stickers
Hobby Lobby Buttons - Dress It Up: My Little Chickadee #1301 & Bunny Hop #1299
(If you have never used buttons on your projects before you should try it! There are so many cute ones on the market and they even have a handy $7 tool that cuts the little back thing a ma jig off where you sew it on your fabric so the button will lay flat)
http://www.joann.com/favorite-findings-button-shank-remover/prd17142/
The Paper Studio - 2 Seasons Patterned paper (not shown - I used the Easter egg paper on the inside of the card)
* * * * * * * * * * * * * * * * * * * * * * * * * * * * * * * * * * *
FYI: This was my 1st post ever as a blog hop participant! In honor of this moment, I would like to give away some BLOG CANDY! These are the buttons I used on the card. It's not much but I wanted to do a little something to say thank you for hopping along with us today. You do not have to become a follower but that would be sweet if you did! Leave a comment here and check back Monday for the winner announcement. (psst...check back Sunday for a second chance to win)